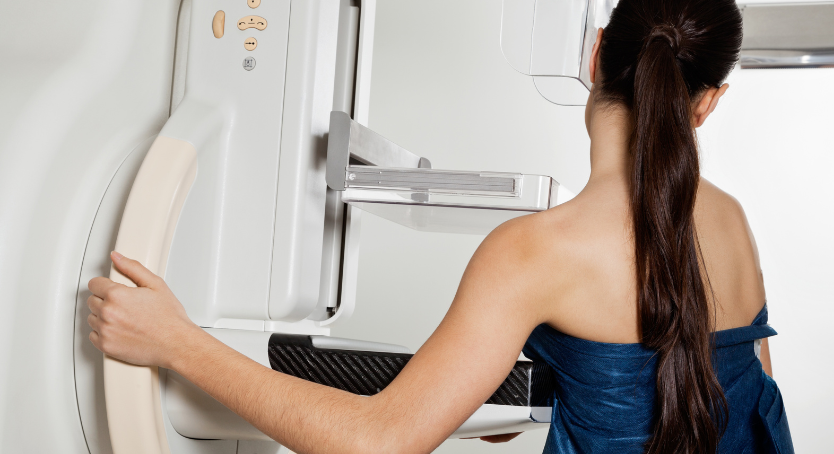 Why is Breast Screening Important?


Early detection saves lives


Avoid removal of entire breast
Breast screening is a vital component of women's healthcare because it can lead to early detection, improved survival rates, and a better overall quality of life for those at risk of breast cancer.
Breast cancer is the result of abnormal cell growth in the breast which multiply and form a malignant tumour that has the potential to invade other parts of the body. Breast cancer most commonly first appears in the cells lining the milk ducts.
Persistent lump in the breast or axilla
Change in breast skin colour or appearance, such as redness, puckering or dimpling
Change in breast size or shape
Discharge from the nipple, especially if it is bloody
Change in the nipple or areola, such as scaling, persistent rash, or nipple retraction
Breast cancer detection and breast screening
Clinical Examination
This is a visual examination of skin and tissue. The doctor performs a manual inspection for unusual texture or lumps and determines whether additional checks are recommended.
Ultrasound
An ultrasound is a scan that uses sound waves to produce pictures of the inside of the body with no radiation. Breast ultrasounds can determine if a lump is a solid mass or a fluid-filled cyst. Cysts are usually not cancerous, while a solid lump may require further investigation or biopsy depending on the shape.
Mammogram
A mammogram is a screening tool used to detect breast cancer today. It is a type of breast imaging that uses low-energy x-rays to examine breasts and detect cancer in its early stages when it is most treatable. Mammograms give a picture of the internal structure of the breast and can detect cancerous masses and malignancies even before they can be felt by hand. Other tests may be required to determine if a lump is cancerous.
Screening mammograms are performed once a year for women between the ages of 40 and 49, and once every two years for women above the age of 50. Usually, two or more images are taken of each breast.
If there are any specific areas of concern or symptoms such as lumps, tenderness, nipple discharge, or skin changes, a diagnostic mammogram is performed. Diagnostic mammograms are more detailed than screening mammograms. Always let your doctor know if you have any specific areas of concern or symptoms.
Breast Biopsy
A breast biopsy is a procedure where tissue is taken from the suspected site. The removed cells are analysed using a microscope. Only a biopsy can confirm if a suspicious area is cancerous.
Can breast cancer be treated?
Breast cancer is potentially curable. Non-invasive types of breast cancer such as Ductal Carcinoma In Situ (DCIS) or Lobular Carcinoma In Situ (LCIS) may be cured if detected in the early stages.
The Centre for Screening and Surgery (CSS) specialises in the screening and detection of cancer in its early stages. We perform breast screening with a high-resolution ultrasound machine and in-house mamotome biopsy equipment which detect potential breast cancers.